Michael Windle
mike@porty.net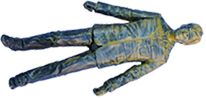 2020 in the house, all year, just like you >
You could print that on your inkjet
or buy a nice one as a present
for a grey person... Here >
By 1697, Martin Martin had graduated from the University of Edinburgh and made his now famous tour of the Western Isles of Scotland. He left us some of the earliest descriptions of life on St Kilda, our furthest inhabited island and strong in the national consciousness.
In 1986 I headed out there myself - on a much less well known tour - on an old Brixham trawler the Lorne Leader > in the company of one of the last remaining St Kildans, Lachlan MacDonald.
This year (2018) I have been there again - marooned for a week this time because of bad weather - but thus enabling more exploration and imagining and fishing and fouling than before. This isn't a history - the island has been probably prodded and poked enough by now. This is a personal journal.
EXHIBITIONS 2020 Berlin Revolution Film Festival 2018 VACMA Retrospective John Gray Centre Haddington 2017 "After the Storm" Royal Botanic Garden Edinburgh 2016 Berlin Experimental Film Festival, Moviemento / Glasgow Short Film Festival, CCA / "The Museum of Preserving City" Botkyrka Kunsthall Sweden 2015 Festival Les Instants Vidéo Marseille / NoArtists Bolton UK / Motorenhalle, riesa efau, Kultur Forum Dresden / Magmart Festival Naples / Videoformes Festival Clermont-Ferrand France 2014 AIVA Videoart Festival Finspång Sweden / "Focus on Film" Royal Scottish Academy Edinburgh 2013 Invocations Dundee 2011 Glasgow Fim Festival GSFF at CCA Glasgow 2010 "For Your Eye" All Art Now, Damascus / "#Moich TXTNG" Perth Concert Hall 2009 "Running Time: Artist Films in Scotland 1960 to Now at the Dean Gallery", Edinburgh / "Visionary Drawings" Mass MOCA USA / "PortoRama" Big Things on the Beach, Edinburgh 2008 "Eskimo" Polarcap, Edinburgh / Incident Report, Hudson New York / "Negativnights" Edinburgh Printmakers 2007 "Digital VD" USA, Europe, Japan "You Do Voodoo" / "No More Stars" Polarcap Dunbar/Edinburgh 2006 "Beginning Ending" Perth Concert Hall Threshold Space 2005 "Dr Skin" Perth City Art Gallery 2004 "BlindSight" VRC Dundee Contemporary Arts / Artspace Titanik, Turku Finland / RSA Edinburgh 2002 "Abuse" VRC Dundee Contemporary Arts 2000 Global Media Interface Leicester Square London 1999 Ljubljana Print Biennial + dialogues@matthew gallery / Demarco European, Edinburgh 1997 Edinburgh Science Festival + Seagate Gallery, Dundee + Collective Gallery, Edinburgh 1996 "Micromegas" Wasps Gallery, Edinburgh 1995 "Swarm" Scottish Arts Council Touring Exhibition 1994 "3+3+3" Fruitmarket Gallery, Edinburgh + "Images of the Earth" Spectator Art Award Sotheby's / Fruitmarket 1991 Islington Arts Factory, London + 'Vyugovey' Ice Sculpture Festival Gorky Park, Moscow 1986 Artspace Galleries, Aberdeen RESIDENCIES 2010 AllArtNow Damascus Syria 1994 Virginia Centre for the Creative Arts 1991 Exchange in USSR 1985 Artists in Industry, Yorkshire Arts Placement Rowntree Mackintosh, Halifax AWARDS 1997 Arts Trust of Scotland Award 1996 Glasgow City Council Award (Royal Glasgow Institute) 1993 Hope Scott Trust Award 1990 Delfina Studios Trust Two Year Residency 1985 Elizabeth Greenshields Award 1984 SED Travelling Scholarship in Italy 1983 Elizabeth Greenshields Award 1982 Hospitalfield House Summer Residency CURRENTLY Lecturer Edinburgh College of Art
The Quiet Hill ~ notebook
(2017 : 8:30mins) Who am I? Although my cerebral and visual cortex is as old as me - my stomach lining is replaced every 5 days, my skin every fortnight and bones every 10 years. My unique DNA is as much me as anything else it seems... and that will be Irish - since (suspiciously) Ancestry DNA is based in Dublin. A short film about trees, family trees, and migration. Review >
The Unconformity Project
(2016 : 22mins) A film of an obsession with the Bass Rock, an island off the south-east coast of Scotland. More info >
How to Paint #3 (for Alexander Guy's In-Public project, Glasgow)
Weltanschauungskrieg (A Space Opera) 2008 >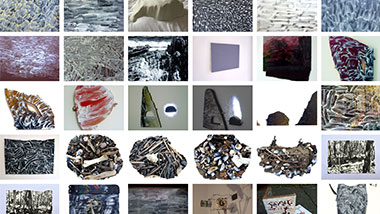 Index >